Summary 1 Samuel 11:
The Ammonite threatened the city of Jabesh Gilead. Jabesh wanted to surrender, but the Ammonites said only if we gouge out the right eye of every one of you to disgrace Israel. When Saul heard the terms at Gibeah, the Spirit of God burned with anger. Saul took oxen, cut them into pieces, and sent the pieces scattered across Israel as a warning to those Israelites who didn't follow him. The Israelites were afraid and rallied around Saul with 330,000 men. Saul slaughtered the Ammonites.
Saul was reaffirmed as king by the people in Gilgal. They sacrificed fellowship offerings to God.
BSF Study Questions People of the Promised Land 1: Lesson 9, Day 3: 1 Samuel :11
6) Part personal question. My answer: The Ammonites attacked Jabesh, a city in Israel, and wanted to gouge out the right eye of every one of the people to disgrace Israel. They were outnumbered and had little choice without rescue. We've had our share of money problems and layoffs. God has always provided.
7) Saul started prophesying (1 Samuel 10:10) and all the people saw the change upon him. He was calm, patient, and humble as he plowed the fields, waiting on God to call him to action.
8 ) Personal Question. My answer: I'm a better person. I act with confidence God is with me. I am God's child. I do God's work.
Conclusions: BSF Study Questions People of the Promised Land 1 Lesson 9, Day 3: 1 Samuel 11:
This lesson was okay. I wish we could have explored Saul's actions more since this is a great example of him listening to God. Mostly, we study Saul when he doesn't listen to God.
End Notes BSF Study Questions People of the Promised Land 1 Lesson 9, Day 3: 1 Samuel 11:
1 Samuel 11:
The Ammonite enemy surrounded this Israelite city, and simply by doing so he made his demands clear. They must either surrender or be conquered.
Note this Israeli city is on the East side of the Jordan River, in Ammonite territory.
Balike says on this passage: "Instead of humbling themselves before God and confessing the sins that had brought them into trouble, they put God altogether aside, and basely offered to become the servants of the Ammonites… We see here the sad effect of sin and careless living in lowering men's spirits, sapping courage, and discouraging noble effort. Oh, it is pitiable to see men tamely submitting to a vile master! Yet how often is the sight repeated! How often to men virtually say to the devil, 'Make a covenant with us, and we will serve thee'!"
Why gouge out the Israelites' right eye?
First, it was to glorify himself by humiliating the men of this city and all of Israel. Half-blinding the men of this city would bring reproach on all Israel by making Israel look weak and unable to prevent such an atrocity.
Second, it would make the men of Jabesh Gilead unable to fight effectively in battle. In hand-to-hand combat the man with one eye has less depth perception and is at a disadvantage to a man with two eyes.
How does Nahash represent Satan?
Satan attacks us but cannot do anything against us without our agreement. He asks for and requires our surrender.
Satan wants us to serve him and will attempt to intimidate us into giving in to him.
Satan wants to humiliate us and exalt himself over us. Through humiliating one saint, Satan wants to bring reproach on all God's people.
Satan wants to take away our ability to effectively fight against him.
Satan wants to blind us and if he cannot blind us completely, he will blind us partially.
The name Nahash means serpent or snake.
The men of Jabesh Gilead were in a difficult spot. They were horrified at the demand of Nahash but they also knew they had no other choice. They knew they needed a savior.
Why would Nahash allow the Israelites to plead for help?
He was confident of Israel's disunity and figured they couldn't find anyone to save them.
By allowing the messengers to go through all Israel he made his name big and his reputation feared throughout the whole nation. The people weeping was exactly the response Nahash was seeking.
Why is the King of Israel working in a field?
Saul was the anointed king of Israel, but there was nothing for him to do. He really didn't know where to begin when it came to setting up a royal court and a bureaucracy and Israel never had one before. So, he just went back home, went to work in the field, and figured God would tell him what to do when the time was right. He didn't worry. He didn't try to figure it out on his own. He waited on God, as well should.
This was Spirit-led anger within Saul. The Bible says we can be angry, and do not sin (Ephesians 4:26), but most of our anger is selfish. Saul's anger was not out of a personal sense of hurt or offense, but out of a righteous concern for the cause of the LORD among His people.
Why cut up the oxen into pieces as a warning to Israel?
Saul delivered a clear threat with the cutting up of oxen into pieces to the people of Israel. The manner of the threat seemed more from the Mafia than from the people of God, but Saul wanted it clear that failure to step up and defend the cause of God at this time was sin, and it would be punished as sin.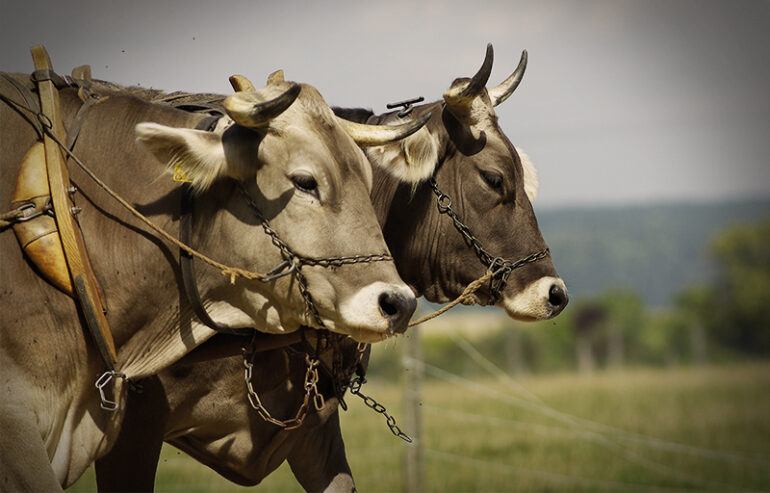 When the cause is right and the need desperate, it is wrong to do nothing. Doing nothing in such cases is sin, and when it comes to the sin of doing nothing, be sure your sin will find you out (Numbers 32:23).
Jabesh Gilead was saved. Saul used military tactics and the people lied to Nahash about surrendering and God gave them a total victory. The supporters of Saul wanted to expose and kill those who didn't support him as king before (as described in 1 Samuel 10:27).
But Saul wisely knew this was no time to take revenge on his opponents. Satan, having failed in the attack through Nahash now tried to attack Israel – even in victory – by dividing the nation against each other. Satan will attack us anyway he can, and he often uses times of victory to attack.
Saul proves himself as king of Israel
Saul had to prove himself before many would accept his reign as king. This is not necessarily a bad thing. It is one thing for a person to be "anointed" or "appointed," but the evidence must be in the doing. God used the Ammonites to prove to Israel His choice.
Analogy to Jesus by Bible scholar Meyer:  "Jesus is our King. The Father hath anointed Him, and set Him on his holy hill; and we have gladly assented to the appointment, and made Him King. But sometimes our sense of loyalty and devotion wanes. Insensibly we drift from our strenuous endeavour to act always as his devoted subjects. Therefore we need, from time to time, to renew the kingdom, and reverently make Him King before the Lord… There is a sense in which we can consecrate ourselves only once; but we can renew our vows often."
Saul won the outward battle and the inner battle against pride, insecurity, and revenge with the Spirit of God's help. He loses this Spirit and, hence, he falls as we shall see.