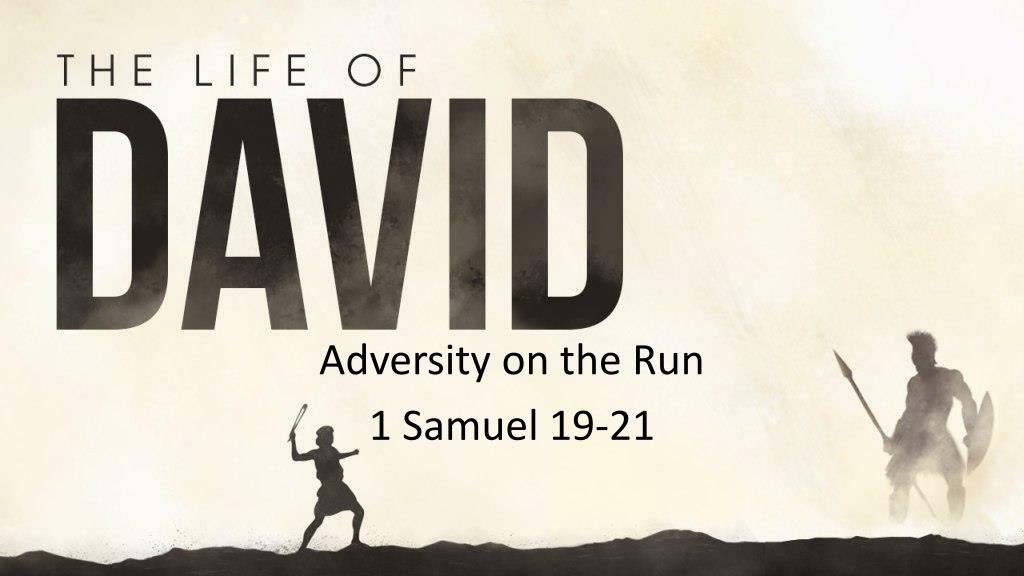 Summary 1 Samuel 20:
David leaves Samuel at Naioth and goes to Ramah to see Jonathan. David asks Jonathan why his father is trying to kill him. Jonathan didn't know his father was trying to kill David again and offers his help. David devises a test to see if Saul still wants to kill him or not: Jonathan is to go to a dinner David is supposed to show up to during the New Moon festival. If Saul loses his temper when he finds out David has fled, then it is not safe to return. If Saul is indifferent, then it is safe to return.
David makes Jonathan re-swear his oath because he is afraid Jonathan will lead him into a trap and tell him the wrong thing. Jonathan will go to David's hiding place and shoot 3 arrows. He will tell his boy to say different things, one meaning it is safe, one meaning David must flee.
When David doesn't appear at the festival, Saul gets angry and accuses Jonathan of siding with David over him. Saul was so angry he hurled his spear at Jonathan to try and kill him as well. Jonathan then went to where David was hiding and gave the signal for him to flee. They wept and kissed and David fled, while Jonathan returned to the town.
BSF Study Questions People of the Promised Land 1: Lesson 12, Day 4: 1 Samuel 20:
10) Jonathan has a great heart who believes the best in people. He puts his own life at risk to save his best friend, David. He doesn't believe his father is capable of hurting David, even though he's seen his father throw a spear at David. He thinks he can convince his father he's wrong. Jonathan trusts in the Lord as shown when he single-handedly took on the Philistines. I like how he does believe the best in people, even when it's obvious they are evil inside.
11) Jonathan knows right from wrong. He knows David is innocent and had done nothing to deserve death, yet Saul is bent on it. It angers Jonathan (1 Samuel 20:34), and he's ashamed of how his father is acting. His own father even hurled his spear at him to try to kill him (1 Samuel 20:33). Jonathan seems to understand that David is the chosen king. He sees this in all the blessings God has heaped upon him in his victories against the Philistines and protections from Saul. He also understands David is doing God's will; whereas, his own father is not.
As we'll see, Jonathan knows David will be king, and he's fine with being number 2 (1 Samuel 23:17).
12) Personal Question. My answer: True friendship is sacrificial. When you're willing to sacrifice for the other person (time, help, money, etc), then you are true friends. And you stand with the friend who does right, not wrong. They loved each other deeply and were willing to do anything for the other — even risk their own life. This is true friendship.
Conclusions: BSF Study Questions People of the Promised Land 1 Lesson 12, Day 4: 1 Samuel 20:
We see God at work in friendships as well and what a true friendship looks like. This is important in this day and age when people have thousands of "friends" on social media — relationships that aren't real. Sacrificial love these days are rare and pretty much exclusive to immediate family members. This is definitely inspiring!
See this great summary video of the book of 1 Samuel HERE
End Notes BSF Study Questions People of the Promised Land 1 Lesson 12, Day 4 : 1 Samuel 20:
Here, we see a heart-to-heart with best friends. We just saw the Spirit of God protect David in Naioth. David could have simply stayed there for however long it took Saul to give up or die. However, David needed to know if there was still a chance to reconcile with Saul.
David needed to know where Jonathan stood. Jonathan reassured David of his love, telling him he had no idea of the attempted arrest. He warned him of Saul's intentions.
David is discouraged, but Jonathan reassures him — the hallmark of a true friendship.
David tests Saul
David comes up with a test to see where Saul's heart lies. At a feast, David asks Jonathan to observe his father's reaction, which will tell where Saul's heart is. Since Jonathan is next in line for the throne and Saul's son, David is unsure. Jonathan, however, is not.
Jonathan agrees to warn David of his father's attitude and intentions
In those days when one royal house replaced another, it was common for the new royal house to kill all the potential rulers from the old royal house. Jonathan knew that one day David and his descendants would rule over Israel, and he wanted a promise that David and his descendants will not kill his descendants.
Jonathan and David agreed to care for one another. Jonathan agreed to care for David in the face of Saul's threat, and David agreed to care for Jonathan and his family in the future. David fulfilled this promise to Jonathan (2 Samuel 9:1-8 and 21:7).
Jonathan would use arrows as a sign of Saul's heart.
The test is put into play
Ceremonial uncleanliness might cause a person to miss a feast such as this, but ceremonial uncleanliness only lasted a day (Leviticus 22:3-7). So when David's place was empty the next day, Saul demanded an explanation.
Speaking of David derisively as 'the son of Jesse,' accentuated his lowly birth and place in the royal family.
Jonathan covered for David, trying to give Saul a plausible (and truthful) explanation for David's absence.
Saul's response said it all as Saul would ignore his previous oath not to kill David  (1 Samuel 19:6)
Jonathan knew what was right before the Lord — and this wasn't right.
Lesson from 1 Samuel 20
A lifetime is nothing but small moments. One small moment can change your life forever.
The weeping is because both men knew they might never see each other again. In fact, Jonathan only sees David once more shortly before he is killed. A sad part of life sometimes how we don't see loved ones again.
Why does God put David on such a path in life?
David needed to depend on God and God alone. Nothing does this more than solitude and persecution — especially unwarranted
God wanted to grow David and often uses bleak roads to do so — think Job, Joseph, Paul, and even Jesus
God needed to be David's defense and promoter
God must alone be the authority in David's life
Redpath: "A throne is God's purpose for you; a cross is God's path for you; faith is God's plan for you."