Summary 2 Samuel 1:
David hears of Saul's death from a messenger, an Amalekite, who claims he was with Saul in battle. He claims he killed Saul and took his crown to David. David and all of his men mourned Saul and Jonathan's deaths. David kills the Amalekite for striking down the Lord's anointed.
David laments Saul and Jonathan's deaths with a poem, saying not to tell Israel's enemies, who will only rejoice and for Mount Gilboa (where both men fell) to never yield grain again. He grieves Jonathan's death as a brother.
BSF Study Questions People of the Promised Land 1: Lesson 16, Day 2: 2 Samuel 1:
3) The man, an Amalekite, claimed he was the one whom Saul asked to kill him, and the man claims he did kill him. In reality, Saul took his own life, and he had asked his armor-bearer to kill him, not a foreigner. The Amalekite claims he took Saul's crown and band off his arm and brought them to David. In reality, the Amalekite was a thief, who stole Saul's crown and band after he died and made up this story to cover his actions.
4) Saul was God's anointed, and thus, deserved respect, admiration, and support. David trusts God. David knows God is in charge and will work history in His way and His timing.
5) Part personal Question. My answer: David still loves Saul, his enemy who tried to kill him. David respects and submits to God's authority. David is still sad for loss of life and is not bitter or angry. David forgives Saul. I would like to be more compassionate to others, more forgiving, and have more faith that life's events are in God's hands.
Conclusions: BSF Study Questions People of the Promised Land 1 Lesson 16, Day 2: 2 Samuel 1:
I love David's power of forgiveness of Saul. He understood the depth of Saul's mental illness and twisted heart and did not hold that against Saul. It's interesting how David did kill the Amalekite. I presume he saw through the lies, probably knowing Saul would not ask a foreigner to kill him, so David punishes the man justly for stealing. David sets a powerful example for his men on compassion, forgiveness, and mourning the loss of a leader no matter what personal feelings you may harbor for the person. As God's anointed, Saul will always be special similar to the Jewish people today. As such, honor and respect are rightfully theirs.
End Notes BSF Study Questions People of the Promised Land 1 Lesson 16, Day 2: 2 Samuel 1:
King Saul and his three sons were killed in battle against the Philistines, dying on the slopes of Mount Gilboa (1 Samuel 31:1-8). It was the sad ending to a tragic life, concluding the story of a man who came to the throne humble but left it hardened, bitter against both God and man.
At the end of 1 Samuel, David had left the Israelites and had allied himself with the Philistines. God prevented a complete alliance and brought David back through heartbreaking circumstances (the Amalekites stole the families and possessions of David and his men). Strengthening himself in God (1 Samuel 30:6), David defeated the Amalekites and brought back everyone and everything.
This event brought David back to the Lord.
The Amalekite arrived with torn clothes and dust on his head —traditional expressions of mourning for the dead.
We know the Amalekite is lying from 1 Samuel 31:5 which tells us Saul's armor bearer saw he was dead.
What do we learn from David's reaction to Saul's death?
Our hatred, bitterness, and unforgiveness are chosen from Free Will.
David became better not bitter
To honor God's anointed (all leaders)
To trust God with history
The Israelites were in a precarious position. Their king has fallen and the Philistines have defeated them.
What do we learn from David's justice against the Amalekite?
It is God's job to end a life — not ours — unless it's justified killing in war, self-defense, or lawful criminal execution.
No matter how we personally feel about the Lord's anointed, no action whatsoever must be taken against him.
FUN FACT: The book of Jashar is also mentioned in Joshua 10:13; it evidently contained a collection of early Hebrew poetry.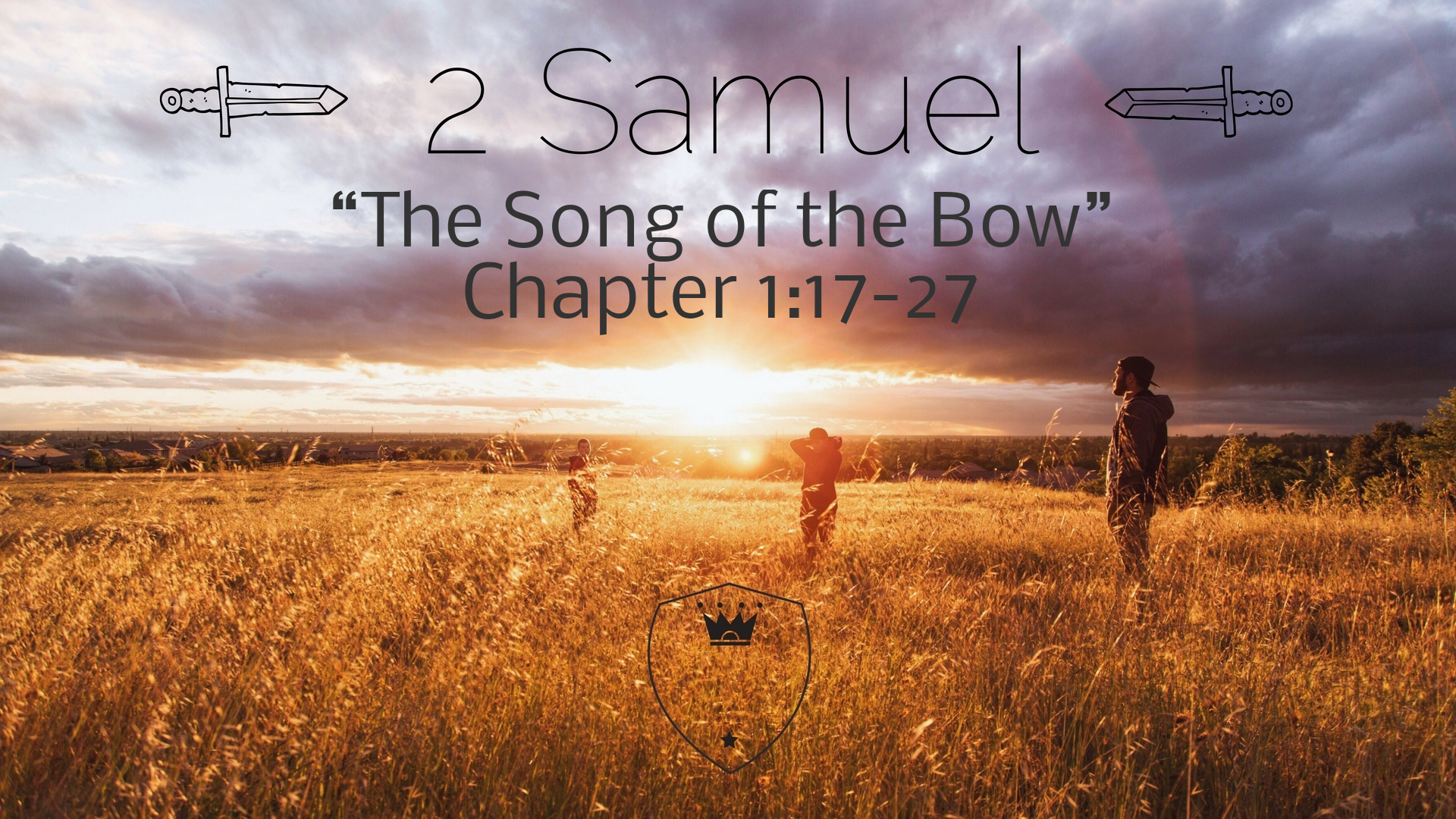 What do we learn from David's lamentation song of Saul and Jonathan's deaths?
David was not bitter, even when he was greatly wronged and sinned against. David fulfilled 1 Corinthians 13:5: love thinks no evil. David knew the principle of 1 Peter 4:8: And above all things have fervent love for one another, for "love will cover a multitude of sins."
David trusted in God and God's power. He knew that God was in charge of his life, and that even if Saul meant it for evil, God could use it for good.
How did Saul fall?
Saul fell long before his death. He fell when he hardened his heart against God, against the word of God through the prophet, and against the man after God's own heart. Saul's death on Gilboa was merely the sad conclusion.
Why does David not understand a woman's love?
It might surprise you that David said Jonathan's love for him was more wonderful than that of a woman's.
Had David followed God's plan for marriage – to one woman, faithful for a lifetime – he might have found more fulfillment in his marriage relationship. David's own experience of love with women was not according to God's will. His multiple marriages kept him from God's ideal: one man and one woman in a one-flesh relationship. If we can draw anything from Bathsheba, it will be how David's "love" was more like lust — at least in the beginning.
David and Jonathan's love for one another
There is not the slightest hint that David and Jonathan expressed their love in a sexual way. They had a deep, godly love for each other – but not a sexual love. Our modern age often finds it difficult to believe that love can be deep and real without sex being involved.