Summary of 2 Samuel 9:
David showed kindness to Jonathan's son, Mephibosheth, by restoring all the land that belonged to Saul and giving him a place at his table — a considerable honor. David provided for Mephibosheth all the days of his life and for Ziba, a servant of Saul's household as well.
Summary of Ephesians 2:1-10:
We are alive in Christ; whereas, before we were dead in our transgressions as we followed the ways of the world and our sins. We are saved by grace through faith in Jesus as our Savior, which leads to good works.
BSF Study Questions People of the Promised Land 1: Lesson 19, Day 4: 2 Samuel 9; Ephesians 2:1-10:
10) Because of God's great love and mercy for us, He sent Chris to die for our sins, making us alive in Christ and dead in our sins — all through the grace of God. We spend eternity with God because of His grace.
11) David treats Mephibosheth as an heir, extending to him the rights of the son of a king. We are heirs to God's kingdom through His son, Jesus. A full list is listed in the end notes. Here are some ways:
The King's kindness is extended to us for the sake of another.
The King's kindness is based on covenant.
We have the privilege of provision at the King's table.
We are received as sons at the King's table, with access to the King and fellowship with Him.
12) Personal Question. My answer: I experience God's mercy every day as He constantly forgives my sins. I pray prayers of thanks for His mercy, compassion, and grace upon me and for His Son, Jesus.
Conclusions BSF Study Questions People of the Promised Land 1 Lesson 19 Day 4: 2 Samuel 9; Ephesians 2:1-10:
Same lesson as yesterday, just with the added emphasis of how David is a man after God's own heart as we see David extending the same grace to Mephibosheth as God extends to us through Jesus Christ.
End Notes BSF Study Questions People of the Promised Land 1 Lesson 19, Day 4: 2 Samuel 9; Ephesians 2:1-10:
Commentary 2 Samuel 9 (same as yesterday's):
In 1 Samuel 7 David asked, "What can I do for God?" and he proposed to build a temple for the Lord. Now David asked another question we should all ask: "What can I do for others?"
David's question showed his huge heart as Saul was his enemy. Usually, the king of a new dynasty massacred anyone connected with the prior dynasty. David went against the principle of revenge and against the principle of self-preservation and asked what he could do for the family of his enemy.
Why did David want to help Mephibosheth?
David did this because he remembered his relationship and covenant with Jonathan (1 Samuel 20:14-15).
David wanted to show someone else the same kindness God showed to him.
We first learned of Mephibosheth in 2 Samuel 4:4, which says that this son of Jonathan was made lame in his feet from an accident. He fled from fear of being killed since Mephibosheth had the right to the throne. He was a son of the first-born son of the king, and other potential heirs were dead.
Later in 2 Samuel 16:5-8 we see a man named Shimei who was a partisan for the house of Saul against David. There were at least a few in Israel who felt that the house of Saul should still reign over the nation, and that David shouldn't be king. Mephibosheth might draw upon these partisans and develop a rival following.
Ishbosheth was Mephibosheth's uncle, and he waged a bloody war against David for the throne of Israel. There was at least an outside chance that Mephibosheth might do the same.
Mephibosheth, probably due to his disability, held a low station in life. He didn't even have his own house. Instead, he lived in the house of another man.
Machir the son of Ammiel later showed his loyalty to David when David's son, Absalom, led a rebellion against David. Machir supported and helped David at great danger to himself (2 Samuel 17:27-29).
What did David do differently with regards to Mephibosheth?
David went against all custom in showing such kindness to an heir of the former dynasty.
David gave Mephibosheth the honor of a close relationship with the king, which is what Jesus offers. Jesus told the disciples that they would eat and drink at His table in heaven (Luke 22:30).
David gave Mephibosheth servants to work the land.
How is David's grace to Mephibosheth like God's grace to us?
We are hiding, poor, weak, lame, and fearful before our King comes to us.
We are separated from our King because of our wicked ancestors.
We are separated from our King because of our deliberate actions.
We separated ourselves from the King because we didn't know him or His love for us.
Our King sought us out before we sought Him.
The King's kindness is extended to us for the sake of another.
The King's kindness is based on covenant.
We must receive the King's kindness in humility.
The King returns to us what we lost in hiding from Him.
The King returns to us more than what we lost in hiding from Him.
We have the privilege of provision at the King's table.
We are received as sons at the King's table, with access to the King and fellowship with Him.
We receive servants from the King. (credit David Guzik) 
What does David's treatment of Mephibosheth teach us about serving others?
We should seek out our enemies and seek to bless them.
We should look for the poor, weak, lame, and hidden to bless them.
We should bless others when they don't deserve it, and bless them more than they deserve.
We should bless others for the sake of someone else.
We must show the kindness of God to others. (credit David Guzik)
Commentary Ephesians 2:1-10:
A being might be alive in one sense but dead in another. To be spiritually dead does not mean that we are physically dead, socially dead, or psychologically dead.
The Bible uses different pictures to describe the state of the unsaved (dead in transgressions) man:
Trespasses connotes we've crossed a line, challenging God's boundaries. Sins connotes we've missed a mark, the perfect standards of God.
Satan orchestrates sin. He is active everywhere and at all times. We once walked in sin as an old man, but Jesus crucified that person at the time of conversion. The sin nature inherited from Adam influenced the old man, but the world system and Satan do also. We still see the old man in the flesh.
Those who walk now in Christ should feel uncomfortable in the presence of sin.
The unique title for Satan speaks of his authority (prince) and his realm (the air, a way of referring to Satan's "environment").
Bible Scholar Bruce explains: "The domain of the air, in fact, is another way of indicating the heavenly realm, which, according to Ephesians 6:12, is the abode of those principalities and powers, world-rulers of this darkness and spiritual forces of wickedness against which the people of Christ wage war."
We once were among the sons of disobedience from our conduct. Lusts of the flesh are basically perversions of the legitimate desires of human nature.
We rightfully deserve God's wrath. However, out of God's great mercy and love for us, we are reconciled to Him.

What is grace?
Every reason for God's mercy and love is found in Him. We give Him no reason to love us, yet in the greatness of His love, He loves us with that great love anyway.
We must stop trying to make ourselves lovable to God, and instead receive His great love while recognizing that we are unworthy of it. This is grace.
What are the requirements of salvation?
You must be dead to every attempt to justify yourself before God.
God made us alive through the crucifixion of Christ on the cross.
Through faith, we believe this is true.
Through God's grace, we are accepted.
What are the results of salvation?
We have a new place for living, a new arena of existence – we are not those who dwell on the earth (as Revelation often calls them), but our citizenship is in heaven (Philippians 3:20).
We sit in Jesus. Since he sits in heavenly places, so do we.
Nothing ever changes. God will continue to show us grace in the future (coming ages) and continue to bless us through eternity.
Paul knew the Gospel would be preached forever.
BY GRACE THROUGH FAITH WE ARE SAVED
Salvation is a gift from God
Faith is a gift from God. We cannot believe in Jesus unless God does a prior work in us, for we are blinded by our own deadness and by the god of this age (2 Corinthians 4:4)
Bible Scholar Clarke explains: "Without the grace or power to believe no man ever did or can believe; but with that power the act of faith is a man's own. God never believes for any man, no more than he repents for him; the penitent, through this grace enabling him, believes for himself."
What do we learn about praying for others?
Since God initiates salvation, we should begin our evangelism with asking God to do the initiating and granting the unsaved the ability to believe.
We are God's poem
God saves us not merely to save us from the wrath we rightly deserve, but also to make something beautiful of us. We are His workmanship, which translates the ancient Greek word poiema. The idea is that we are His beautiful poem. The Jerusalem Bible translates workmanship as "work of art."
God's love is a transforming love. It meets us right where we are at, but when we receive this love it always takes us where we should be going. The love of God that saves my soul will also change my life.
We are His workmanship, His creation – something new He has made of us in Jesus Christ.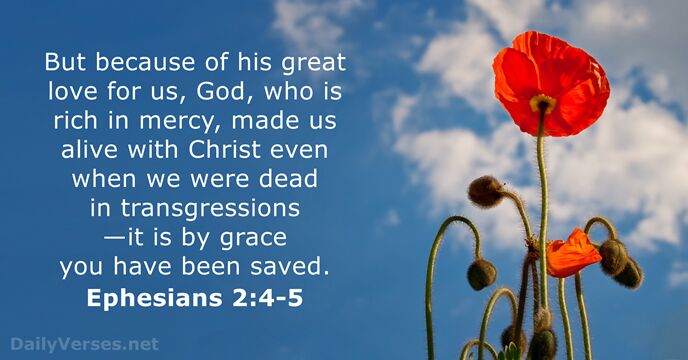 How do you know you are saved?
Through good works. Good works are the evidence we are walking in Christ Jesus. Good works are just as much a part of God's predestined plan as anything else is.
Works play no part at all in securing salvation. But afterwards, Christians will prove their faith by their works.