Summary of 2 Samuel 11:18-27:
Joab sends a messenger back to David to report about the battle. The messenger reported to David that they won the battle, but men were lost, including Uriah the Hittite. Bathsheba dutifully mourned, and then married David. God was displeased.
Summary Psalm 32:
David says we are blessed because our sins are forgiven and not held against us. David was weighed down under his unconfessed sin. He confessed and was forgiven. God's unfailing love protects those who trust in Him.
BSF Study Questions People of the Promised Land 1: Lesson 20, Day 3: 2 Samuel 11:18-27 with Psalm 32:
7) Uriah died. Bathsheba married David.
Consequences of David's sin with Bathsheba
An unwanted pregnancy
The murder of a friend
A dead baby
HIs daughter raped by his son
One son murdered by another son
A civil war led by one of his sons
A son who imitates his father's lack of self-control, leading him and much of Israel away from God
8 ) Currently, we're not seeing it. We'll see it later on. He displeased God (never a good thing to have God mad at you). He had to compromise his integrity and kill his friend. I can't imagine he's feeling all that great. All for one night with a woman. In Psalm 32, he later says the secret of the sin sapped his energy and weighed him down until he confessed.
9) Personal Question. My answer: Don't cover up sin with sin. Confess now, be forgiven, and let the weight be moved from your shoulders, so you can move forward with your life instead of living in guilt.
Conclusions BSF Study Questions People of the Promised Land 1 Lesson 20 Day 3: 2 Samuel 11:18-27 with Psalm 32:
David doesn't seem too concerned, does he, that he murdered someone. I guess when you're used to killing people, what's one more life? I image David felt relief more so than remorse over his actions — until God gets involved. Then his attitude will change.
End Notes BSF Study Questions People of the Promised Land 1 Lesson 20, Day 3: 2 Samuel 11:18-27 with Psalm 32:
Commentary 2 Samuel 11:18-27:
In Judges (Judges 9:50-57), Abimelech was killed by coming too close to the walls of a city under siege. The idea is that Joab knew it was a bad military move to get so close to the walls, but he did it anyway on the command of David.
We have no reason to believe that Bathsheba knew that David arranged the death of her husband. It is likely that David concealed all this from Bathsheba. At the same time, she was partly relieved to hear of her husband's death, considering now she would not be branded and adultress and she'd be a queen!
David was probably heralded for marrying the wife of one of his soldiers killed in battle.
FUN FACT: This is the first mention of God in the chapter. God witnessed every event and read the intent of every heart, but His displeasure is only implied until this specific statement.
Commentary Psalm 32:
This Psalm is simply titled, A Psalm of David. A Contemplation. The Hebrew word for contemplation (maskil) might be better understood as instruction (Boice). This is the first of twelve psalms with this title. It is full of instruction and contemplation and worthy of meditation, as indicated by the frequent repetition of Selah, three times in only eleven verses.
The Psalm itself does not tell us the specific occasion in David's life which prompted this song. In Psalm 51 – which was clearly written after David's sin with Bathsheba and against Uriah – David promised to "teach transgressors Your ways" (Psalm 51:13), and this Psalm may be the fulfillment of that vow. John Trapp said that Psalm 32 and 51 are "tuned together."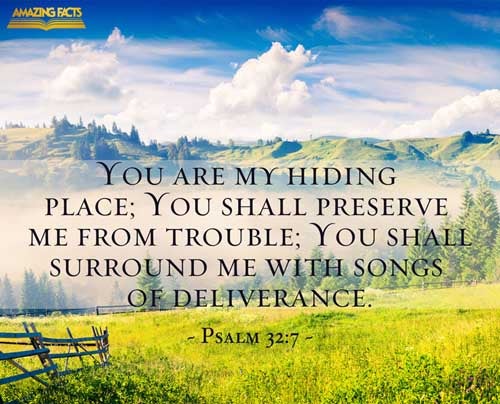 FUN FACT: This was Saint Augustine's favorite psalm. Augustine had it inscribed on the wall next to his bed before he died in order to meditate on it better.
"The word blessed is in the plural, oh, the blessednesses! the double joys, the bundles of happiness, the mountains of delight!" (Spurgeon)
Psalm 1 tells the way to be blessed: don't walk in the counsel of the ungodly, don't stand in the path of sinners, but delight in God's word – thinking deeply on it all the time. Yet if one has failed to do this and fallen into sin, Psalm 32 shows another way to be blessed – to make full confession and repentance of sin.
King David and sin in his life
David had great opportunity to know this blessedness in his own life. David had seasons of sin and what may be called backsliding or spiritual decline. Notable among these were David's time at Ziklag (1 Samuel 27, 29-30) and David's sin regarding Bathsheba and Uriah (2 Samuel 11). In each occasion David came to confession, repentance, and forgiveness.
Therefore, David knew what it was like to be a guilty sinner. He knew the seriousness of sin and how good it is to be truly forgiven. He knew – as Paul would later state in Romans 4:6-8 the blessedness of the man to whom God imputes righteousness apart from works.
3 words used for sin in Psalm 32:
Transgression — crossing a line, defying authority.
Sin — falling short or missing the mark
Iniquity — crookedness and distortion
3 ways God puts away sin:
Forgiven — lifting of a burden or debt
Covered — sacrificial blood covering sin
Does not count against you
David's misery was directly connected to the oppression of unresolved sin and rebellion against God.
"God's hand is very helpful when it uplifts, but it is awful when it presses down: better a world on the shoulder, like Atlas, than God's hand on the heart, like David." (Spurgeon)
Why misery is a good thing:
Misery demonstrates you are in fact a son or daughter of God and God will not allow you to remain comfortable in habitual or unconfessed sin. One who feels no misery has far graver concerns.
The work of the Holy Spirit, convicting the man or woman of God of their sin and hardness of heart, is an essential mark of those who truly belong to God. The consideration of this work is so important that David gave the pause for meditative consideration, Selah. "The Selah indicates a swell or prolongation of the accompaniment, to emphasize this terrible picture of a soul gnawing itself." (Maclaren)
Theme of Psalm 32: Confession is the path to forgiveness. All we have to do is receive it.
God Himself is our hiding place, a secure shelter. A good hiding place has strength, height, is not easily seen, and is reliable. Jesus is our safe place to fall.
David prophetically spoke in God's voice unto His people. Through this, God promised to instruct, teach, and guide His people. Fellowship is restored.
David was like a dumb animal that could only be guided through pain or severity. God allowed the Amalekites to devastate David and his men (1 Samuel 30). God sent Nathan to speak sharply to David in his sin (2 Samuel 12). Like a dumb animal, David could not come near to God unless he confessed.
Four Themes of Psalm 32:
Blessedness of forgiveness
Release of guilt and a secret life
God protects His people
God guides His people