Summary 1 Samuel 19:
Since the plan with the Philistines didn't work, Saul would take matters into his own hands and call for David's death. He asked his son and attendants to kill David. Jonathan warned David his life was in danger and told him to go into hiding.
Jonathan reasons with his father, Saul, who took an oath not to put David to death. David and Saul's relationship is mended. Once again, the Philistines attack, and David defeated them again.
Saul once again threw his spear at David. This time, David flees after his wife warns him, and she puts an idol (why does she even have one?) in the bed to be David. When Saul confronts her as to her role in David's escape, she claims David threatened her life.
David flees to Samuel's home of Ramah for protection. Saul sends men after David, but God protects David and makes the men prophesy. Eventually, Saul goes to Ramah himself to get David, and God makes him prophesy as well.
Summary of Psalm 59:
David prays to God to protect him from his enemies (in this case, Saul). He's done no wrong, yet he is attacked. David knows God will go before him and take care of his enemies for His glory. David will praise God always for He is his fortress and refuge.
BSF Study Questions People of the Promised Land 1: Lesson 12, Day 3: 1 Samuel 19 with Psalm 59:
6) They risked everything, even death, to save David, since Saul has been prodded by an evil spirit who will kill at a moment's notice.
7) Personal Question. My answer: Every day in small sacrifices that could cause me harm or risk my job or relationships, such as standing up for what I believe, calling people out when they twist God's words or writing what I believe.
8 ) Personal Question. My answer: David's faith is unshakable. He knows God will take care of him and his enemies and do it all for His glory. He knows God will answer his prayers. He knows he is in God's hands. David's faith gives him the strength and courage to go on, fighting for God, when all he probably wants to do is flee and go live a cushy life somewhere.
9) Remembering God and who He is and what He is capable of strengthens us as well as we are facing our own enemies in this world. It will give us the courage to fight another day and strengthen our faith as we allow God to be in charge and lead us in His ways. We walk differently and act differently when we don't worry, knowing God is in control.
Conclusions: BSF Study Questions People of the Promised Land 1 Lesson 12, Day 3: 1 Samuel 19 with Psalm 59:
I like reading David's thoughts and prayers along with the action of the Old Testament. It's like a movie or book, having inside knowledge of what the character is thinking. It puts a personal touch to all the battles and jealousy and hiding. David's life shows us what a life full of hardships looks like and how it can be used by God for good. Very encouraging.
See this great summary video of the book of 1 Samuel HERE
End Notes BSF Study Questions People of the Promised Land 1 Lesson 12, Day 3: 1 Samuel 19 with Psalm 59:
1 Samuel 19:
Saul put everyone in a difficult spot, forcing them to choose obedience to a king or obedience to THE KING.
Jonathan loved David, and God made a wonderful bond of friendship between them, sealed by a covenant (1 Samuel 18:1-4). Jonathan knew David was destined to be the next king of Israel, even though Jonathan was officially the crown prince. At the same time, his father and king told him to kill David.
The servants all loved David (1 Samuel 18:5) yet they are commanded by their king to kill David.
Sin is never excused, even when ordered by a higher authority.
We are under authority and commanded to submit to God's order of authority in many different arenas. There is a Biblical submission from children to their parents, from citizens to their government, from employees to their employers, from Christians to their church leadership, and from wives to their husbands. But in all these relationships, we are never excused from sin because we obeyed an authority that told us to sin. In this case, it would be wrong for Jonathan to obey his father and kill David.
Jonathan stood for what was right AND took action to prevent a wrong by warning David. He did not stand idly by and allow a sin to take place. Putting his own life on the line, Jonathan defended David to his father AND told his father his jealousy is a sin.
Saul's mind had twisted all the facts from the past and had put David as being selfish about killing Goliath and doing everything for fame instead of for the Lord. Jonathan tells him how it is — something we all need in our lives.
God used Jonathan, but it wasn't the work of Jonathan. It was the work of the LORD, and Saul recognized this by declaring this oath.
Why did Saul break his oath to not kill David?
Saul was in a spiritual battle — a battle he was unprepared for.
At the end of 1 Samuel 19:7 there was a truce in the spiritual war involving David and Saul. But whenever we are at a time of cease-fire in the spiritual war, we know the battle will begin again before long.
Saul was unprepared to handle temptation, unprepared to handle spiritual attack, and had the opportunity to sin close at hand. Most of us will trip up under those circumstances.
Fun Fact: David never returns to the palace until he is the king of Israel – some 20 years later. From now until the day Saul dies, David lives as a fugitive.
For the second time, Saul breaks his oath (1 Samuel 19:6). not to kill David and sends men after him.
David's wife, Michal, helps him escape
Michal acts according to the principle of Genesis 2:24: Therefore a man shall leave his father and mother and be joined to his wife, and they shall become one flesh. The former family loyalties and obligations take a back seat to the loyalty and obligation to the new family.
During this night, when men watched his house and David escaped, he composed a song unto the LORD found in Psalm 59. David sings in times of trouble.
Why does Michal have an idol?
The idol was a teraphim, a figurine used as a household idol or as a fertility and good luck charm. In ancient Israel, teraphim were intended as aids in worshipping the true God. The Israelites didn't think of the teraphim as other gods, but as representing the God of Israel — which Exodus expressly forbids.
The teraphim shows the slow deterioration of Israel even during these good times.
The idol shows that Michal didn't have the kind of relationship with God she should have. This weak relationship with God will reveal itself in Michal as the story of David's life unfolds (2 Samuel 6:16-23).
Saul's hatred of David shines through
Saul wants to kill David himself
Saul calls David his enemy. These are the saddest words in this passage.
You can imagine David's confusion. So what does he do? Flees to safety, reassurance, and support — Samuel.
The word Naioth comes from the Hebrew word for residence. This spoke of Samuel's home (which may have had "Naioth" title itself), or it may have been some landmark or specific place in Ramah. Whenever Naioth is mentioned, it is associated with Ramah.
Why are the Israelites prophesying?
Prophesying doesn't necessarily mean the Israelites are all seeing the future. The Hebrew word simply has the idea of speaking under the inspiration of the Holy Spirit. They probably all gave spontaneous and inspired praise to God.
This was God's way of protecting David. This was an unusual work of the Holy Spirit – to come upon men who did not seek after God, who did not long to be filled with the Spirit prophesying.
This kept happening. Saul didn't get the message.
Why did Saul take off his robes?
Saul would not humble himself before God, and so God will find a way to humble him.
It is unlikely – though possible – that Saul stripped himself bare. The Hebrew word for naked can indicate just stripping down to the undergarments. Saul probably took off all the royal robes that said "prestige" and "royalty," and laid himself out bare before the LORD in his plain linen undergarments, stripped of all his royalty and glory.
A person can be affected by the power of God (resulting in amazing experiences), but not surrendered to the power of God, which results in a changed life. This was Saul.
Saul is among the prophets appeared in  1 Samuel 10:10-12, and it expressed astonishment that someone became a religious enthusiast.
Psalm 59:
This Psalm is about 1 Samuel 19:11-12, which was when the murderous intent of King Saul against David was openly revealed, and David began his time living as a fugitive and in hiding.
David faced many perils and enemies and many of his Psalms begin with this thought. This is common and to be expected when you lead a Godly-life. The man after God's heart, Israel's greatest earthly king, had many enemies — as did the Son of David.
Through this Psalm David declared his close and personal connection with God:
Praying for deliverance
Defend me is an ancient Hebrew word, meaning to lift up, as into a safe and defended place. It says, "Lift me up to Your high tower where I am even higher above those who rise up against me." This idea is repeated three more times in the Psalm (59:9, 16, 17).
The word protect (defend 59:1) like the kindred word 'fortress' (defense) (59:9, 16, 17), contains the thought of what is set high up, out of reach.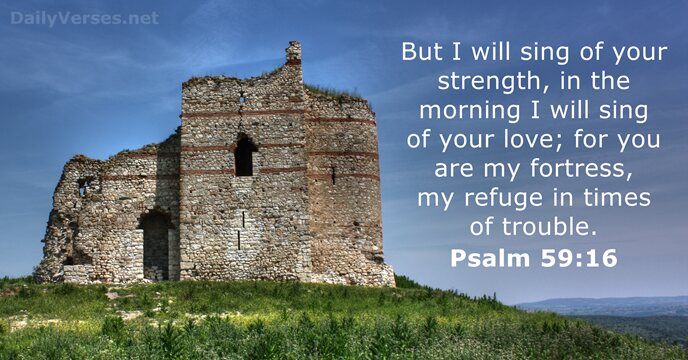 Like the best movies of today, David was the target of a focused assassination plot that came from the highest levels of Israel's government. Many felt they could advance their favor before King Saul by killing David. Knowing the danger, David looked to God for rescue and defense.
David looked to God for help. He didn't make a claim to sinless perfection. He simply told God there was no justified reason for Saul to send bloodthirsty assassins against him.
Appealing to God
David appealed to God with a variety of His names and titles:
Yahweh, the covenant God of Israel (LORD)
Elohim Sabaoth, the commander of heavenly armies (God of hosts)
Elohi Israel, the God of His chosen people (God of Israel)
The men sent to watch David's house and kill him were determined. They didn't give up quickly, and they growled like dangerous dogs.
One bible commentator explains growl: "There is some uncertainty over the word growl, which is the expression used for the Israelites' 'murmuring' — one might almost say 'whining' in the wilderness."
The word belch: 'Belch' means to gush out, and is found in a good sense in Psalms 19:1. Here it may perhaps be taken as meaning 'foam,'. The root idea is of bubbling up and bursting out; so in terms of dogs, 'See how they slaver at the mouth'.
All who opposed God would be held in derision.
The word defense has the idea of a high tower or fortress. David believed that God was like a strong, high tower for him. It seemed impossible for David to survive against such a powerful conspiracy against him, but God would be his defense, his high tower.
This verse reminds me of the song Strong Tower by Kutless.
My God of mercy. David knew that God would be merciful to him and that God would meet him, even lead him, in his need.
"The word meet (59:10a) is based on the idea of what is 'in front' of someone, usually in the sense of confronting them by coming to meet them, as in the beautiful phrase of Psalm 21:13. But it can alternatively imply going in front to lead the way."
Three titles for God:
My God of mercy
My defense (high tower)
Strength
Spurgeon on "My desire":  "Observe that the words, 'my desire,' are not in the original. From the Hebrew we are taught that David expected to see his enemies without fear. God will enable his servant to gaze steadily upon the foe without trepidation; he shall be calm, and self possessed, in the hour of peril." (Spurgeon)
Lessons from praying about defeating enemies
David didn't only want the defeat of his enemies. He wanted them defeated in a way that would do the most good for God's people. If those enemies were kept alive but scattered, the lesson would last longer.
Whenever David prayed for the destruction of his enemies (and sometimes he prayed quite severely), he had in mind not only his personal deliverance, but also what the display of Divine justice would teach God's people.
David repeated the prayer consume them twice for emphasis.
Let them know that God rules in Jacob to the ends of the earth: These words are very similar to what David said to Goliath in 1 Samuel 17:46.
The line from Psalm 59:6 is repeated for emphasis.
Wandering the streets is like hungry dogs do, looking for food.
David's heart was filled with songs of praise instead of dark fears. He started the Psalm asking God for His defense (Psalm 59:1); at the end of the Psalm, he was so confident in God that he could sing about it.
David's life as a fugitive begins
For the next perhaps 10 to 15 years (and the rest of the book of 1 Samuel), David had to live as a fugitive, constantly in danger of his life. It's interesting to note that David entered the period singing praises and was still singing praises at the end of his fugitive years (2 Samuel 1:17-27).